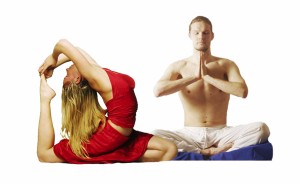 This course forms the basis of the teaching given by Natha, Academia de Yoga de Portugal. The course begins by clarifying the basic principles of Yoga. It starts with the foundations of Yoga and it proceeds, gradually, to an increasingly multidimensional and deep teaching. The teaching is structured in a way that each class continues with new teachings but with the same teacher, year after year. The support of the group and of a familiar teacher are irreplaceable in the path of spiritual growth.   
A new teaching is given once a week (ásana, philosophy or other techniques). A yoga class includes practice of about 90 minutes (ásanas, pránáyáma, meditations, etc.) and half hour of theory, offering this way, every week, a new aspect of the science of Yoga, its philosophy and exercises. Theoretical material is also supplied, in all the classes, so that the student can study at home.
The first year of teaching focus mainly on Hatha Yoga, especially on ásanas, and in the fundamental steps of Yoga. In the end of the first year the student receives an initiation in Laya Yoga – an efficient meditation technique. Along the second year the system is deepened, entering in more complex ásanas and pránáyáma techniques. In the most advanced years mahávidyá yoga, kundaliní yoga, svara yoga and many other topics are studied .  
Event: Course on Traditional Yoga  
Date: Beginning on January 5, 2009  
Hours: Mondays and Thursdays 19h30 – 21h30 and Wednesdays 17h-19h and 19h30 – 21h30
Local: Natha – Academia de Yoga de Portugal, Av Poeta Mistral 15 r/c esq, 1050-181 Lisbon  
Language: English – please contact the organization if translation to Portuguese is required  
Contacts: 21 895 90 34 (English)–93 197 54 74 (Portuguese)  
                   yoga@academiadeyoga.pt  
More information: www.academiadeyoga.pt
Read also related posts: