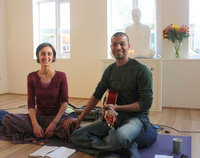 Reigate, Surrey | Friday, October 22, 2010
Yoga Ananda Holistic Centre presents the fabulous Illumina – Sean Shokat and Lila Cohen. Using techniques of call and repeat (so you don't need to know the words) these two divinely inspired musicians who hold a space of healing and celebration, using Sacred Sound and Mantra to reconnect to the still, silent presence of our divine nature.
The word Illumina carries the vibrations of Universal Illumination of consciousness, Love and Oneness in the Shamanistic traditions of South America. The duo aim to bring this experience in a tangible way into the heart of every meeting.
Kírtan in Sanskrit means "to repeat", it is also call-and-response chanting performed in India's devotional traditions. Kírtan is a dynamic spiritual practice and involves chanting hymns or mantras to the accompaniment of various musical instruments.
Illumina bring a world-wide repertoire of devotional songs and chants from various traditions and faiths including Buddhist, Hindu, Sufi, Tibetan, Sikh and Native American cultures. Illumina concerts celebrate unity in diversity and lead their audiences into both meditative and celebratory experiences.
All welcome – we will sing, and probably dance, children might enjoy this session, all teenagers and any adult definitely will! Bring your friends and family, its a very inclusive event.


To book online click here now




Date: Friday, October 22, 2010
Hours: 7:30pm – 9:00pm
Location: Yoga Ananda Holistic Centre, 46 Albert Road North, – Reigate, Surrey RH2 9E, UK
Value: £12 on the day (book now for £10, click for online booking)


More information:
Email: info@yogaAnanda.co.uk – T: 01737 222 400 – Web: www.yogaananda.co.uk


See also other events by: Yoga Ananda


[HTML1]


Category: Events