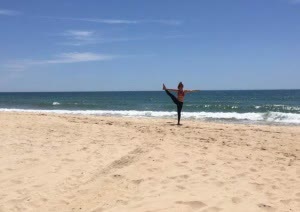 Vila Nova de Cacela | 19-26 October, 2019
Rejuvenating Yoga Retreat Algarve – 19-26 October 2019 – with Maria João Neves in Vila Nova de Cacela – Algarve.
Dear Yogini,
In this retreat, you can expect a more vigorous Yoga Class in the morning, a restorative class in the evening, and a Green Tara Meditation Session – the female Buddha of enlightening activity – every day. Breakfast and dinner, vegetarian-friendly, are included. The resort has direct access to one of the most beautiful beaches in the Algarve, with its clean waters and white sand. Beaches are almost empty in this time of the year, but it's still warm enough to swim or just enjoy the visit of wild dolphins and the gift of beautiful shells. You are 15′ away from the very well preserved Tavira Town – the pearl of the Algarve. As the host of this retreat, it's my goal to offer you all good conditions to connect with your inner self in this piece of paradise.
With love, Maria João Neves
Value
650 € single room
1280 € double room – You need to bring your room mate
at: Praia da Lota Resort
www.praiadalotaresort.com/en/
Praia da Lota – Manta Rota 8900-037 Vila Nova de Cacela
Yoga styles
Program
Day 1: Arrival
Getting together
Restorative class
Dinner
Day 2 to 7
07:30 – 09:00 Yoga Vinyasa Flow
Until 10 a.m. Breakfast
Free time (beach, swimming pool, cycling, and more)
17:00 – 17:45 Green Tara Meditation
18:00 – 19:30 Restorative Yoga
Free time
Dinner up to 9:30 p.m.
Day 8 – Departure
07:30 – 09:00 Yoga Vinyasa Flow
Until 10 a.m. Breakfast
Departure
Day six might have slight changes due to the dinner in a Portuguese gourmet restaurant in Tavira.

What's included
14 Yoga lessons
6 meditation sessions
7 breakfast at the resort
6 dinners at the resort
1 dinner at a gourmet Portuguese restaurant in Tavira
All meals have vegetarian options

What's not included
Flights
Airport transfer
Yoga private sessions
Additional spa treatments
Registration and Cancellation Policy
A reservation requires a deposit 300€.
The deposit is fully refundable if the booking is cancelled up to 35 days before the arrival date.
The rest of the payment should be paid by 14 September the latest.
+Info& Registration:
Book or send your questions to
mjoaoneves@yahoo.com
Maria João Neves Ph.D.
Yoga changed my life. It can change yours!
Start: Sat, 19-Oct-2019 – End: Sat, 26-Oct-2019
Email: mjoaoneves@yahoo.com – Web: www.aryatarayogaalgarve.com
Category: Geral