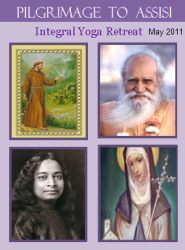 Perugia – Assisi, Umbria | 27 May to 31 May, 2011
Reverend Padma Priya will be guiding the 5 days retreat "In The Footsteps Of The Saints" – A Heart Of Living Yoga Retreat in Ananda Ashram near Assisi. It will be followed by the Integral Yoga Euro Reunion, near to Genoa.
Participants will be staying at the beautiful Ananda Ashram near Assisi which was founded by Paramahansa Yogananda and visiting the places where St. Francis and St. Clare lived and meditated, and also where Sri Gurudev Satchidananda experienced transformation … so you will see why the retreat has been called "Following in the Footsteps of the Saints".
As guests staying in the peaceful Ashram of Paramahansa Yogananda in Perugia, near Assisi in Italy, participants will be following their own retreat programme led by Rev. Padma Priya, with early morning meditation followed by Integral Hatha Yoga from the heart and a silent evening meditation.
The retreat includes visits to the holy places of St. Francis and St. Clare and the place of transformation for our own beloved Sri Gurudev Satchidananda.
The accommodation is in twin rooms with ensuite bathrooms and delicious vegetarian meals are provided. Visits to holy places have kindly been organised for us by Ananda Ashram and transport there and back by minibus. There will also be ample free time if you want to explore the area.




About Ananda Ashram
Know more about Ananda Ashram at www.ananda.it where you can even take a virtual tour of the Temple of Light…  To see an independent review of one person's stay there read the article Yogananda – A Devotional Journey and Self Discovery by Elke Duerr.
Ananda is located in the tranquil hills of Umbria, Italy on "Strada Statale 444" between Assisi and Gualdo Tadino. It is the largest retreat center in Europe for Yogananda''s teachings.
The nearest airport is Perugia and there are budget flights available with Ryanair.




About The Integral Yoga Euro Reunion, 2011
The Integral Yoga Euro Reunion happens every two years when all the teachers and students of Integral Yoga come together in a joyful reunion. This year it will be led by Swami Asokananda and Swami Vidyananda with many senior teachers from Europe also leading programmes and giving classes. It is being held in a monastery near to Genoa and runs from 1st to 5th June, 2011. If you would like more info or to book for the Reunion please email Parvathi Paola Faini on info@integralyoga.it.


For those also attending the Integral Yoga European Reunion near Genoa, we will travel there by train together on 1st June.




Date: 27th May to 31st May, 2011
Location: Ananda Ashram, Strada Statale 444 ( between Assisi and Gualdo Tadino) – Perugia – Assisi – Umbria, Italy
Value: 450 € or £395 all-inclusive cost of the 5 day retreat


More information:
Email: revpadma@gmail.com – info@integralyoga.it (Parvathi Paola) – T: +39 0742-81.36.20 – Web: www.ananda.it


See also other events by: Integral Yoga


[HTML1]


Category: Events