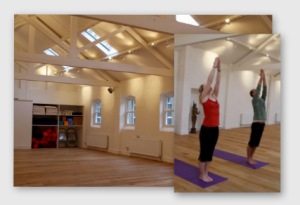 London | Sat, 12 and Sun, 13 February, 2011
The Islington "Yoga Hub" Finally Gets Its Own Premier Yoga Centre. One of The UK's most popular Yoga and well-being destinations, The Life Centre, has expanded, with the opening of a new Yoga and well-being centre in Britannia Row, Islington. The Life Centre Islington will cater to the growing community of new and regular students in North London.
The Life Centre Islington is celebrating its launch with an Open House Weekend on Saturday 12th and Sunday 13th February 2011.



Events at Special Price This Weekend
Weekend classes – Just £4 for this weekend – Weekend classes which will ordinarily cost up to £14
Taster classes – Only for £2 – Taster classes which give visitors the chance to try lots of different Yoga styles in a shorter time frame.
Two Yoga Sunday workshops – at a reduced rate of £15 – Yoga & The Art of Loving with Lisa Sanfilippo, and Yoga Nidrá – The Science of Profound Deep Relaxation with Graham Burns. Both workshops are suitable for all levels of experience.


The Life Centre Islington team hope that the discounted classes will encourage North Londoners to come and try Yoga within their area, including the area's seasoned yogis who previously had to travel out of Islington to get their Yoga fix.
Director of The Life Centre Islington, Elizabeth Stanley, explains; "Statistics have shown that North London is a hub for men and women who practice Yoga. In fact, there are twice as many yogis in N1 as there are in W11*. Until now, most had to travel out of the Borough to find a centre that had a wide range of drop-in classes that fitted in with their lifestyle.
The Life Centre Islington has multiple drop-in Yoga classes so there's something for everyone. For business executives we have classes that start early morning and late evening, and we have daytime classes for stay-at-home mums, such as mum and baby Yoga. They also have a subsidised community class and several pregnancy Yoga classes. Always aiming to fit Yoga classes in with the customer's lifestyles and this is a formula that has worked very well for their first Notting Hill centre."
*Yogamatters.com statistics, January 2011 – comparison of client figures in different parts of London. Yoga buyers in N1 = 299, Yoga buyers in W11 (Notting Hill) = 151



Program
Saturday,  12 Feb 2011
Saturday Taster Classes
09h45 – 10h45  Yoga for Back Care – Tender Loving Care for Your Back with Yoga with Adelene Cheong
11h00 – 12h00  New To Yoga – Ashtanga Focus with Ulric Whyte
12h15 – 13h15  Introduction to Iyengar Yoga with Tessa Bull



16h15  Pújá
As part of the Opening Celebration Weekend, we will also be having a special pújá (ritual) to invoke the blessings of Ganesha on The Life Centre Islington and Yogacampus Training Centre.
In Indian mythology, the elephant headed Ganesha is associated with new beginnings and the removal of obstacles. He is traditionally invoked at the start of any new enterprise.  The pújá will begin at 4.15pm on Saturday 12 February and will be conducted in traditional form by Keshava Shastry.


18h – 19h  Kírtan with Narayani and Meditative Sound Bath with Ann Malone
Immediately after the pújá, we will round off the day's celebration with kírtan and music. The kírtan (call and response singing) will be led by Narayani, a well known devotional singer, voicework facilitator and Yoga Teacher.  The kírtan will run from 6.00pm to approximately 7.00pm, after which we will relax in the beautiful meditative sound bath created by Ann Malone playing hang, Tibetan bowls, rain stick, chimes and bodhran and through vocal toning and gentle mantra. Ann is particularly well known for her hang playing on Shiva Rea's Yogacampus intensives and workshops, but she has worked with many other yogis and musicians, as well as performing at Glastonbury and producing and recording 3 CDs for the hang.
Pújá and kírtan places are limited, so to book in advance please click here.




Sunday, 13 Feb 2011


Sunday Taster Classes
10h15 – 11h15  Pregnancy Yoga – Try out a class with pregnancy Yoga teacher Anna Firth
11h30 – 12h30  Mummy and Baby – Your chance to sample some specialist yoga for mums and their babies with Anna Firth
14h00 – 15h00  Introduction to Yin Yoga with Norman Blair



Sunday Yoga Workshops
The Open House Weekend will also be offering two very special and inspiring Sunday Yoga Workshops, suitable for students of all levels.  The workshops should be booked in advance – they're a heart-warming Islington introductory rate too!


16h30 – 18h30  Yoga & The Art of Loving with Lisa Sanfilippo, £15
Carefully cultivated poses and practices will help you to shift your body-patterns and thought forms towards greater openness: moving from criticism to compassion, resistance to acceptance, armour to sensitivity, and judgment to gentleness.


15h30 – 17h  Yoga Nidrá – The Science of Profound Relaxation with Graham Burns, £12
Many of us have at some time experienced the profound guided relaxation practice of Yoga Nidrá. But have you ever wondered about the theory behind it? Graham will discuss some of the key principles of Yoga Nidrá and explore how and why it Works, both from the perspective of the ancient yogis and the perspective of modern science.
About The Life Centre
The Life Centre® has Yoga and complementary health centres located in London's Notting Hill and Islington. Since being founded in 1993, The Life Centre is dedicated to creating a community based around Yoga and natural health. The Centre offers over 125 classes and 30 all natural therapies each week with some of London's most qualified teachers and practitioners.
From beginner yogi to advanced yoginí, whether trying natural care for the first time or you're completely converted, our door is wide open for visitors to attend inspiring classes, experience fabulous therapies, and join motivating workshops. Our teachers and therapists are experienced and compassionate and bring years of knowledge and training in their respective practise.
To find out more about the Open House Weekend schedule, please visit The Life Centre website – www.thelifecentre.com/islington




Date: Saturday 12th and Sunday 13th February, 2011
Location: The Life Centre Islington, 1 Britannia Row, N1 8QH – London


More information:
Email: fiona@thelifecentre.com – islington@thelifecentre.com – T: 020 7704 0919 – 020 7042 9905 (Fiona Anderson, Marketing Manager) – Web: www.thelifecentre.com


See also other events by: Yoga Campus


[HTML1]


Category: Events