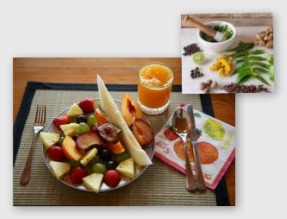 Reigate – Surrey | Sun, 27 Feb, 2011
Ayurvedic practitioner Ratna Cordukes will guide Ayurvedic Workshops and Cooking Classes at the Yoga Ananda Holistic Centre between February and November 2011. The first workshop "Diet and Nutrition with Áyurveda" will take place on Sunday, 27th February, 2011.
According to Áyurveda all edible items are categorised according to the six tastes of sweet, salty, sour, bitter, pungent and astringent. This workshop gives an introduction to the Ayurvedic concepts with special reference to the association of the doshas to the six tastes and the energetic and the post-digestive effect it has on the bodily tissues. It explains the type of foods that provide nourishment to the body and mind and ones to avoid according to your constitution.


Highlights
Understanding the concept of the six tastes
The role of Agni (digestive fire) in maintaining mind-body balance
The power of digestion
Incompatible foods
Cooking tips
Hand outs
Delicious Ayurvedic food
A lovely relaxed setting


Ratna's cooking classes are very informative and FUN to attend. This is not a demonstration class but where you are able to get your hands dirty and COOK. They start with the cooking, then the eating and finish with discussing the valuable information you need to hold on to the day's experience and cook healthy meals at home. They also throw in some competition to make it very exciting! Pitta people absolutely love it!
Every class is different with topics ranging from how to cook lentils, use spices in western dishes, making salads using Ayurvedic principles and even learning what and how to cook for people suffering with conditions like Diabetes, Hypertension, M.E., IBS etc. No class is the same so you can join any one you wish. Want to cook healthy meals that are not boring? Join them and you will be pleasantly surprised how creative you can get in the kitchen.




Upcoming workshops and Cooking classes
2011
Sun 17th April – The Spice Cabinet Cooking class (a therapeutic kitchen!)
Sun 26th June – Stress Management
Sun 25th September – Lentils, Beans & Legumes cooking class
Sun 2nd October – Women's Health
Sun 27th November – The Good Mood Food
Cost per workshop: £75 includes lunch, snacks, herbal teas and cooking ingredients, where applicable




About Ratna Cordukes, MSc Ayu Med, MAPA, BCMA
"…she does Ayurvedic consultations, bespoke Wellness and Therapeutic Treatments and also hosts several workshops centering on wellbeing with topics ranging from managing stress to cooking classes. If you are looking for something different, unique or new then Áyurveda with Ratna is for your answer."

Ratna's mission is to get as many people as possible to understand and integrate Áyurveda into their daily life. She uses simple and realistic methods to introduce Ayurvedic concepts so one finds it easy to understand and apply. Her desire is to educate and empower individuals with practical tools to enable them to look after their health. Her interest in Mental Health prompted her to do her Masters in the "use of nasya for the prevention of Generalised Anxiety Disorder".
Having witnessed the benefits of using simple Ayurvedic procedures from childhood, Ratna works with a consolidated programme "Clear, Cleanse and Create" to get good results. This flexible programme works totally with the person in mind with no time frames or rigidity. She also does Ayurvedic consultations, bespoke Wellness and therapeutic treatments and hosts several workshops centring on wellbeing with topics ranging from managing stress to cooking classes. If you are looking for something different, unique or new then Áyurveda with Ratna is your answer.


Please Note: It is advisable to attend this workshop if you plan to attend any of Ratna's cooking classes later in the year.




Date: Sunday, 27th February, 2011
Hours: 10:30h – 17:30h
Location: Yoga Ananda Holistic Centre, 46 Albert Road North, Reigate – Surrey RH2 9EL, UK
Value: £75 including Lunch and Herbal teas. £20 deposit is required to confirm your place on this worksh A non-refundable £20 deposit is required to reserve a place for this workshop.


More information:
Email: info@yogaAnanda.co.uk – T: 0752 9986 835 – Web: www.yogaananda.co.uk – forbalance.com


See also other events by: Yoga Ananda Holistic Centre


[HTML1]


Category: Events