London | Sunday, January 16, 2011
Mimi Kuo-Deemer is leading a day-long "Loving Yoga" Retreat at The Special Yoga Centre in London.
"When we set aside time for ourselves outside normal, daily routines, it becomes more possible to slow down, reflect, and begin to approach many things with greater patience and personal insight. When we do this on our Yoga mats, this helps us to gradually nudge open the door to a practice that ultimately is about love, which, in the words of the Yoga Teacher Erich Schiffmann, "is the ability to recognize that which is real". "
This day-long retreat will be an occasion to approach your Yoga practice from a slower, more attentive perspective – with a whole day at our disposal, there will be plenty of time to spend feeling how different practices resonate for you, and take time to experience a fuller spectrum of Yoga's delights. You'll also be able to receive more personal attention in specific postures, and work outside the confines of the usual class structure. Throughout the day, we will spend some good time on our Yoga mats practicing refreshing vinyasa flow as well as deeply restorative Yoga Poses. We will also work with the power of intentions (great for the New Year!), meditation, and personal reflection. It will be a day to celebrate the joys of Yoga and the love it can help us feel and appreciate.
All levels welcome.





About Mimi Kuo-Deemer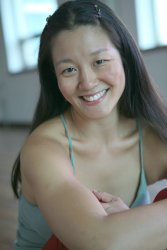 Mimi Kuo-Deemer has been practicing Yoga for 15 years and teaching since 2002. She is a faculty member on the Triyoga teacher training program and mentors teachers in training at Yogacampus.
She takes great pleasure in creating safe, innovative yoga classes where students can work hard and relax deeply. Mainly, she weaves healthy alignment principles into enlivening, mindful vinyasa flow, but also enjoys peppering her sessions with Yin Yoga, Restorative Yoga, and Qigong practices.
Mimi's main teachers in the Yoga world are Erich Schiffmann and Donna Farhi, who continually strengthen her belief that Yoga is the art of living. Above all, she values her students and self-practice as her main sources of inspiration. Mimi leads workshops and retreats internationally.
She is a Yoga Alliance Registered Yoga Teacher (RYT), member of the International Association of Yoga Therapists (IAYT), and co-founder of Yoga Yard, a studio in Beijing, China, where she taught for 7 years before moving to London.




Date: Sunday, January 16, 2011
Hours: 10:00 – 5:00 pm
Location: The Special Yoga Centre, Top Floor, 2A Wrentham Avenue, Kensal Rise – NW10 3HA London
Value: Price: £60 on the day, £50 pre-pay, and £40 conc.


More information:
Email: hello@specialyoga.org.uk – mimi@mkdeemer.com – T: 10:00 – 5:00 pm – 0208 968 1900 (+020 8968 1900) (+44 (0) 7794 251309) (Mimi Kuo-Deemer) – Web: www.specialyoga.org.uk – www.mkdeemer.com


See also other events by: Mimi Kuo Deemer, The Special Yoga Centre


[HTML1]


Category: Events