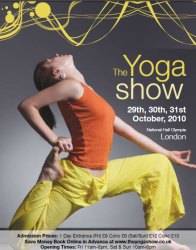 London, Olympia | 29 – 31 October, 2010
The prestigious National Hall, Olympia in London will once again host The YOGA Show. In its seventh edition, it is an opportunity to spend three days in Yoga Bliss, the total Yoga experience under one roof.
There is plenty to do at this year's show including free Yoga & Pilates classes, Pilates reformer and 1:2:1 equipment sessions, Children's Yoga, demonstrations and lectures. With over 200 exhibitors you will also find everything you need for your Yoga & Pilates practice together with inspirational products for a healthy lifestyle.
The Opening Ceremony will be led by the World Healing Project, at the "Sacred Space" by the Main Stage, with an universal blessing to the essence of Yoga – realising our connection with divine love, peace and joy.






Exhibition, Workshops, Open Classes (Yoga, Pilates, Children's Yoga), Lectures, Stage Performances, Mantra Chanting, Meditation, complementary therapies…  and much more


Children's Room
Open Class Area
Lecture Area
Main Stage
Tree of Life Meditation Area
Self Realisation Area
and a Sacred Space created by World Healing Project to help "connect to the Divine"



Date: 29h, 30th & 31st Oct 2010
Opening Times:
Friday 30th October opening times 11am – 6pm
Saturday 31st October opening times 10am – 6pm
Sunday 1st November opening times 10am – 6pm
Location: The YOGA Show – The National Hall, Olympia – Hammersmith Road, Kensington, London, W14 8UX


More information:
Email: info@primeimpact.co.uk – – T: +44 (0)1787 224040 – Fax: +44 (0)1787 223535 – Web: www.theyogashow.co.uk


More information: www.theyogashow.co.uk


Organisation:
Prime Impact Events
The Old School, Colchester Road,
Wakes Colne, Colchester, Essex, CO6 2BY
Tel: 01787 224040 – Fax: 01787 223535
Email: info@primeimpact.co.uk
Web: www.primeimpact.co.uk
Category: Events