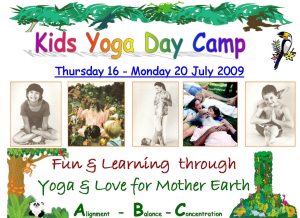 Portugal – Almancil (Algarve) | 16-20 July, 2009
Satya & Sadasivam and Lucy Luckshmi Cannon will be running a Kids Yoga Day Camp from the 16-20 July at Quinta da Calma – Almancil, near Faro.
The CAMP will run from 10.00-14.30 every day and is for children from ages 5-10.
If you can, please let the organizers know as soon as possible as they have a limit of 20!!!
About Sadasivam & Satya Greestone
Have been teaching children of all ages for over 35 years. They started the Integral Yoga School in 1978 in the USA. It is an elementary school based on principles of Yoga. They developed a full academic curriculum based on non-competitive creative education.
About Luckshmi Cannon
Luckshmi (Lucy) Cannon, has been teaching yoga to children for 7 years during summer holidays. She is a big kid herself and loves to play.
Details:
Ages 5-10 years
5 days 10h – 14:30h
Incl. Vegetarian lunch & snaks
Price: 150 € if you book by 1st July – 175 € After 1st July
Reductions for more that 1 child from the same family.
Program Includes:
Yoga Class, Nature Activities, Art Projects, Music and Swimming.
What to bring:
Comfortable clothes, swimwear, Hat, Suncream, Painting colthes or apron.
Location: Quinta da Calma, Almancil, Algarve, Portugal.
Bookings – Please call:
Luckshmi (Lucy) on +351 91 922 92 89 (I will not be in phone contact for the next week, but you can email me and I will get back to you as soon as I can) or Quinta da Calma on +351 289 393 741
If you are coming from abroad, there is the possibility of renting accommodation at Quinta da Calma. Please email info@quintadacalma.com for info.
Email: luckshmilucy@hotmail.com – info@quintadacalma.com
More Info: www.quinta-da-calma.com
Please share with any one you may know that wants to bring their child along.
Category: Events