Lisbon – Portugal | 18 and 19 July 2009
Danny Paradise will be in Portugal to give an intensive Yoga course on the weekend of 18 and 19 of July. It is an excellent opportunity to practice and deepen the knowledge of Yoga with one of the more known and respected Yogis internationally. Danny Paradise is a professor of Ashtanga Vinyasa Yoga and was the mentor of Madonna and Sting.
The classes on both days are suitable for all ages and levels of experience, from beginning to advanced practitioners, students and teachers of ALL forms of YOGA.
The classes are also considered to be teacher training sessions as well.
About the Intensive Course
The practice of the intensive course include: Pránáyáma, Ásana and open talks on the following topics: 1 / Historical and Shamanic roots of Yoga and their connection to other ancient cultures: Egyptian, Mayan, Native North and South American, Chinese, Polynesian … 2 / Healing processes of Ashtanga Yoga and other traditions of healing 3 / Relation between Yoga and other indigenous sacred spiritual traditions around the world 4 / Spiritual Intelligence and Evolution 5 / Personal responsibility, personal authority, Universal authority, the Sacred, achieving personal destiny and Yoga 6 / Nutrition, diet and the dangers of the chemical, pharmaceutical and genetically modified food industry 7 / Medical intuition, understanding the processes that create disease and healing and the relation with the glandular system and chakras 8 / Shamanic and Yogic perspectives on aging and death.
About Danny Paradise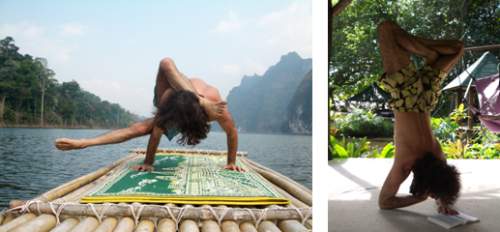 Read here an interview with "Mr.  Ashtanga Yoga" – Danny Paradise.
Location: Lisbon Time: Days 18 and 19 July – Morning from 9:30 to 13 pm; Afternoon 15h to 19.30 Values: Value for entries until 30 June: € 80 – 1 day: € 150 – 2 days Value for registration after June 30th: € 100 – 1 day: € 180 – 2 days Note: registrations until June 30 may be paid on 2 times (1st part until May 31, 2nd part until June 30) Transfers to NIB: 0033 000045264953874 05 MILLENNIUM BCP Please submit proof of transfer to one of the emails below with the registered name.
Contacts for registration and information:
Yoga Ashram, Av. General Eduardo Galhardo, 343 – 2775-564 Carcavelos – Portugal
Tel. 214 581 510 – 938701852     Email: geral@yogaashram.net Web: www.yogaashram.net Other emails: eusouyoga@hotmail.com – marcoperalta@mail.com