Online | 09-11 October, 2020
ONLINE SUMMIT with Tenzin Wangyal Rinpoche, Deepak Chopra, Mingyur Rinpoche and Other Guests – Online.
Serenity Ridge Dialogues
A FREE ONLINE SUMMIT WITH TENZIN WANGYAL RINPOCHE AND GUESTS
October 9-11, 2020
SERENITY RIDGE DIALOGUES
Join us for this special summit at the frontier of science and spirituality.
October 9-11, 2020
When we bring our attention to our body, our breath and our mind, what happens and why? How does our relationship to sensations, thoughts and perceptions change through meditation and other energetic practices? Can science and medicine inform what and how we engage with these ancient traditions?
Join Tenzin Wangyal Rinpoche and special guest Deepak Chopra, along with leading scientists, physicians and practitioners for a live online summit running October 9-11, featuring deep conversations at the intersection of scientific and spiritual knowledge about body, breath and mind.

Buddhism, medicine, science, physics, physiology and other contemplative traditions are the heart of this online summit from Serenity Ridge Retreat Center, Ligmincha International and Wisdom Publications.
The official summit will then run October 9-11, entirely online via live Zoom webinars.
A Saturday evening conversation between Tenzin Wangyal Rinpoche and Deepak Chopra.
Four main dialogue sessions, including a capstone dialogue about Body, Breath, and Mind with esteemed experts. Each session features presentations of recent scientific and medical research in a moderated discussion with humanists and contemplatives
Guided meditation sessions with Tenzin Wangyal and others throughout each day
Guided Tibetan Yoga with Alejandro Chaoul-Reich
"Lunch with Rinpoche"-a special lunchtime event where we'll get to listen to Rinpoche and some of our presenters reflect on Buddhism and science in a more casual setting
Q&A session where the speakers will answer your questions
SESSION DESCRIPTIONS
1. Opening Meditation and Discussion
Tenzin Wangyal Rinpoche will guide a meditation that brings us into the stillness, silence and spaciousness that exists within us all. Then Daniel Aitken and Rinpoche discuss the topics of the weekend's sessions.
2. Body
Tenzin Wangyal Rinpoche – Discussant
Maria Kozhevnikov – Presenter
David Germano – Discussant
Ruth Wolever – Moderator
The Body session dialogues about how meditation techniques affect embodiment. Opening with a discussion about different contemplative styles and methods, the participants consider the neurophysiology of meditation. Current research is presented on how different meditation techniques can enhance control over the autonomic nervous system or activate the sympathetic nervous system. Activation of the sympathetic system in the body arouses phases of alertness and high wakefulness. Styles and methods of Buddhist meditation are mapped onto these findings, suggesting correspondence between meditations derived from Theravada practices with the autonomic nervous system and Vajrayana practices with the sympathetic nervous system. These ideas are brought into conversation with how body-based meditations are understood and practiced in Tibetan Buddhism.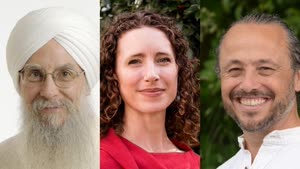 3. Breath
Tenzin Wangyal Rinpoche – Discussant
Sat Bir Singh Kohsla – Presenter
Tawni Tidwell – Discussant
Alejandro Chaoul-Reich – Moderator
The Breath session discusses breathing practices, especially Yoga breathing practices that slow and transform the body and mind. The dialogue session begins with a presentation on how breathing practices can regulate autonomic function, heart rate variability, stress and pain as well as improve gas exchange and respiration in direct correlation with the brain and central nervous system. This cutting-edge Yoga breath research is brought into conversation with perspectives from Tibetan medicine, specifically the medical theory of five types of lüng or breaths that relate to autonomic function and stress response. Attention to Tibetan breath practices that suspend the normal timespan of bodily processes at the time of death raise important questions about the connections between body and breath.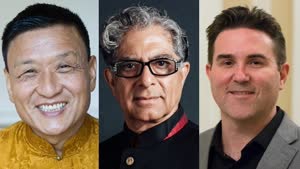 4. Saturday Evening Keynote
Tenzin Wangyal Rinpoche – Discussant
Deepak Chopra – Discussant
Daniel Aitken – Moderator
This session will bring the healing wisdom of the Tibetan Bön tradition into conversation with the latest ideas and discoveries in integrative medicine. Rinpoche and Dr. Chopra will discuss how one can live more holistically in everyday life, across the aspects of body, speech, and mind. They'll also touch on recent challenges that the world has faced, including the COVID-19 pandemic.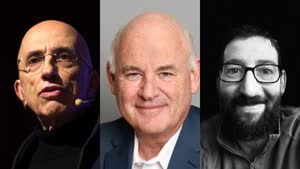 5. Mind
Tenzin Wangyal Rinpoche – Discussant
Menas Kofatos – Presenter
James Duffy – Discussant
David Vago – Moderator
The Mind session brings together perspectives from quantum physics, psychiatry, and n€cience to discuss the dialectic between mind and nature. With a presentation on quantum visions of the mind, the session will discuss principles of duality and nonduality, the universality of knowledge, and the interactivity of factors that range from the atomic level of particles to the subject / object dualities of the ordinary mind. The dialogue will probe questions across the sciences of mind to connect ideas about complementarity with real-world practical applications related to trauma, intention, and compassion.
6. Capstone
Tenzin Wangyal Rinpoche and Speakers
The Capstone session is the apex of the program. Bringing together in dialogue speakers from each of the thematic sessions of body, breath, and mind, this session synthesizes core ideas and explorations that have emerged during the 3-days. Discussion will intentionally connect-the-dots to bring the overarching themes of the program into a unified whole. This will include dialogue about the neurophysiology of mind and body in relation to breathing, the activation of high wakefulness states through contemplative practices, potentials of deep relaxation, and the indivisibility of mind in the co-constructive processes or participating in reality.
More informations about the speakers and the program: click here
Register: click here
Start: Fri, 09-Oct-2020, 19:00 – End: Sun, 11-Oct-2020, 16:00
Email: ligminchaportugal@gmail.com – Web: ligmincha.org
Category: Geral