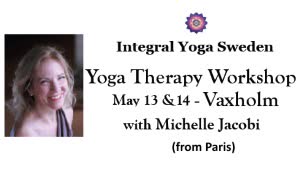 Vaxholm | 13-14 May, 2017
YOGA THERAPY WORKSHOP with MICHELLE JACOBI (France) in Vaxholm.
Yoga Therapy Workshop in Vaxholm
May 13 &14 Saturday/Sunday Weekend Intensive
with Michelle Jacobi founder of Centre du Yoga Marais – Paris.
This workshop will provide tranquility and inspiration as well as a strong boost in energy
levels as we learn some Yoga therapy tools which relate to our brain, and what we know now as our second brain-everything associated with our precious abdomen, most notably our digestive tract.
The Yoga program is appropriate for all levels from total beginners to seasoned Yoga students and includes: ásana, pránáyáma, meditation and guided relaxation. Each will receive individualised attention to address particular needs.
About Michelle Jacobi
Michelle Jacobi founded the Centre de Yoga du Marais in 2001 in Paris, France. She has practiced Yoga since 1993 and received her first training in 2000 from Integral Yoga Institute founded by Sri Swami Satchidananda. You can read more about Michelle and her teaching at www.yogamarais.com
Date/Time:
Saturday 13/5: 11:00 – 13:00 (break ) 14:00 -16:00
Sunday 14/5: 11:30 – 13:30
Location:
Waxholmskliniken – Söderhamnen 4, Vaxholm Busshållplats: Söderhamnsplan
Value: 1100kr – direct payment Bankgiro 862-7945 (include name with transfer)
International payment: IBAN SE 085 0000 0000 5222 1147685 Bic/Swift ESS ES ESS
For more information: contact Jackie Kleefield T: +46(0)76-047 7271 / jksoph@gmail.com
Start: Sat, 13-May-2017, 11:00  –  End: Sun, 14-May-2017, 13:30
Email: jksoph@gmail.com – Web: www.yogamarais.com

Category: yoga