Lisbon | 16-18 September, 2011
Guy Donahaye and Eddie Stern, Ashtanga Yoga professors from New York will be teaching in Lisbon at Casa Vinyasa. Guy Donahaye will be the first, from the 16th to 18th September, and Eddie Stern will visit Lisbon from the 16th to 22nd of October. Guy Donahaye and Eddie Stern are the authors of the book "Guruji: A Portrait of Sri K. Pattabhi Jois Through the Eyes of His Students" a tribute to the teachings and life of the Master Sri K. Pattabhi Jois.
This post talks about Guy Donahaye's visit. A next post will talks about the visit of Eddie Stern.
Isa Guitana, director of Casa Vinyasa in Lisbon, has the pleasure to invite to the teachings of these two certified Ashtanga Yoga teachers. For those who didn't have the opportunity to study with them in New Work this is a great opportunity
Program
Friday, 16 September, 2011 – Kriyá Yoga – 18.30
Kriyá means action. In this class we will attempt to enhance our awareness of the fundamental building blocks of ásana practice: bandha, breathing, alignment, vinyasa and drishti. Through learning agni sara, and eventually nauli, we gain a deeper awareness of uddiyana and mula bandha. These exercises are excellent in many ways, giving many health benefits. These practices also help us to deepen our breathing, work which we will continue to expand through other exercises including surya namaskar and the fundamentals of pránáyáma.
We will deconstruct surya namaskar into its component parts and also work on the six fundamental (standing) ásanas – focusing on how to use the feet and engage the legs, how to bend forward, twist and how to stand in Samasthiti. After practice we will sit for more breathing exercises and an introduction to pranayama.
Followed by a short talk on diet and lifestyle and Q&A.




Sábado, 17 Setembro, 2011
Led Primary Series (1.75-2hrs)
11am – Pránáyáma
12pm – Talk: "I teach only the original Patanjali Yoga" – Sri K Pattabhi Jois. What did he mean?
Followed by Q&A


Domingo, 18 Setembro, 2011
Mysore style (groups of 8-10 students)
12pm – Pránáyáma
1pm – Talk: "Yoga is Mind Medicine" – KP Jois
Pattabhi Jois was devoted to the path of yoga and also to the path of Advaita Vedanta. What was he teaching? In this talk we will explore the relationship between the Advaita philosophy of Shankaracharya (Guruji's family guru) and the Patanjali Yoga Sutra, exploring questions such as: what is the yogic view of the mind, the Self and the process of Self realization? What is meant by "Yoga is mind control?" etc.
Followed by Q&A
About Guy Donahaye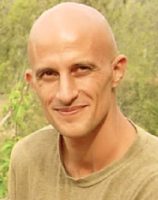 Guy met Sri K Pattabhi Jois in 1991 and continued his studies with him, mostly in India, over a period of eighteen years until Jois' death in 2009. He is one of only 40 students worldwide who has been awarded a teaching certification by Jois during his 70 years of teaching, and has been conducting Yoga classes in this traditional method since 1993.
Guy's interest in Yoga is equally therapeutic, philosophical and spiritual: he came to Yoga with the desire to improve his ability to meditate and found in Yoga a deeply therapeutic tool, which facilitates spiritual evolution through healing body and mind.
In 2009 he published "Guruji" – a tribute to the teachings and life of Sri K Pattabhi Jois with Eddie Stern – a collection of 30 interviews he had conducted over a twelve year period with Jois' senior students and family.
He has been the director of the Ashtanga Yoga Shala in NYC since 1999 and before that in the UK from 1993-1998. He teaches regular workshops on Yoga Philosophy and Practice in New York and internationally.


Data & Horas: Friday,  September 16, 18h30  –  Sunday, September 18, 15h
Location: Casa Vinyasa – Ashtanga Yoga Shala, Av. António Augusto de Aguiar, 150 F 4ºEsq, Lisboa


More information:
Email: casavinyasa@gmail.com – T: +351 91 218 17 78 – Web: www.casavinyasa.com


See also other events by: Casa Vinyasa


[HTML1]