Portugal – Serra do Caldeirão | 10 to 16 August, 2009
Ringu Tulku Rinpoché will guide a retreat in Humkara Dzong, Algarve from 10 – 16 August. Rinpoche will comment on a text of Patrül Rinpoché on Mahamudrá.
Ring Tulku Rinpoché is an eminent Buddhist teacher very esteemed in the Dharma centres throughout the world, by his erudition and the comunicative style of his lessons which are given in English.
He was recognized as the reincarnation of the abbot of the Rigul Monastery in Tibet. He received the diploma of Achárya from the University of Varanasi and His Holiness the XVI Gyalwa Karmapa gave him the title of Khenpo.
He also received the title of Lopön Khenpo from the International Nyingma Society. The main masters of Tulku were the XVI Gyalwa Karmapa and Kyabjé Dilgo Khyentse Rinpoché.
He studied and practiced under the direction of many eminent lamas from all the Traditions of Tibetan Buddhism and has published, among others, a work on the Jamgön Kongtrul and the rime movement.
Tulku ring is the author of a number of books on Buddhism and as well as books for children in Tibetan and European languages. In particular is the author of: "Et si vous m'expliquiez lê bouddhisme ? : Lês principles fondamentaux du bouddhisme tibétain.
Written by Chumani
Saturday, 25 April 2009
Local:
Humkara Dzong Centre, in the village Malhão, near Salir – Loulé – Algarve, Portugal.
For more information, please contact:
Humkara Dzong, Moinho do Malhão, 8100-183 Malhão – Salir – Loulé, Portugal
Tf: +351 289 489 062 – Web: www.okc-net.org
Sponsored Link: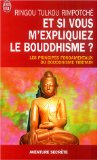 De Ringu Tulku: "Et si vous m'expliquiez le bouddhisme ?" – Les principes fondamentaux du bouddhisme tibétain
Glossary:
Tulku
In Tibetan Buddhism, a Tulku is a lama who, through phowa and siddhi, has consciously chosen to reincarnate, sometimes more than one time, in order to continue his ou her bodhisattva vow. (Source: Wikipedia).
Rinpoché
Rinpoché is a title of the Tibetan Buddhism that is given to a lama who is considered precious in terms of his or her knowledge and practice. Initially applied to leaders of buddhist monasteries and temples, the term became common, not always keeping its original meaning and refering only a title of respect. The term Guru Rinpoché is applied to Padmasambhava, regarded as the initiator of buddhism in Tibet. (Source: Wikipedia).