Menorca – Spain | April 6 to 12, 2009
The Yoga Teachers Lea Perfetti (USA) and Tarik van Prehn (Authorized by Sri K. Pattabhi Jois in 2004) promote an intensive course of Ashtanga Vinyasa Yoga.
Program

April 6th to the 9th (Monday thru Thursday)
Mysore Style from 6:30 am (for students who work earlier) to 10:30 am.  Students can arrive until 9:00 am.

April 10th (Friday)
Guided Class, 8:30 am
April 11 & 12
Class starts at 8:30 am
Afternoon Sessions
April 9, 10, & 11

Classes start at 6:30.
We will be working on inverted postures, pránáyáma and Yoganidra (deep relaxation). Each student will choose their Sankalpa, or internal resolution, to work with throughout the meditations.  The Sankalpa is an internal resolution, which is a personal objective the student desires. The Sankalpa is a specific practice the permits each person to redirect the mind and life towards prosperity.

Satsang

Discussion during the workshop aims to stimulate self-analysis and reflection, to generate strategies for self-sustainability (create more energy and reduce energy waste). The 21st century presents many challenges.  These challenges need everyone´s attention. The "crisis" in which we live in is more than anything a crisis of consciousness about how we live our lives, and where we put our priorities in day to day living. We can learn to develop a lifestyle in order not to fear the future or to be stuck in the past, using yoga to confront the problems we are faced with. With intelligence and determination we can transform our problems into solutions changing the energetic paradigm, into a new era of abundance.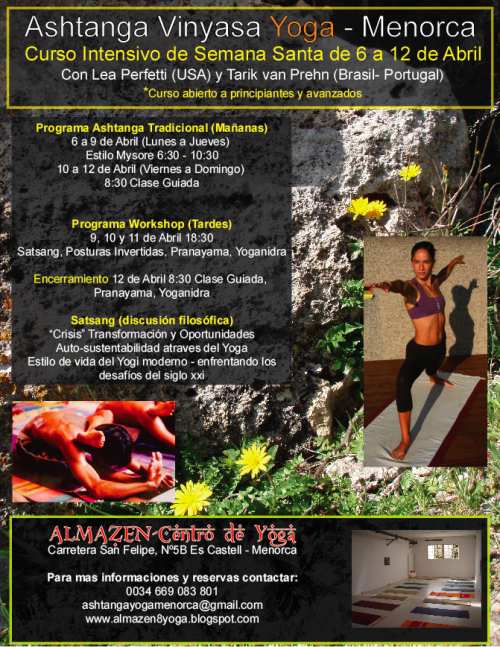 Event: Intensive Course on Ashtanga Viniyasa Yoga
Date: April 6 to 12, 2009
Location: ALMAZEN – Ashtanga Yoga Menorca – Carretera san Felipe, no. 5 B, are Castell – Menorca
Language: Spanish
Prices:
April 6th to the 12th (morning and evening) 95€
April 9 to 12 (morning and evening) 80€
Drop In 20€
Contacts: Tel: 669 083 801 – Email: ashtangayogamenorca@gmail.com
More information: www.almazen8yoga.blogspot.com