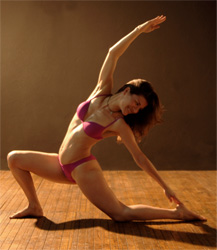 The Center of Oriental Arts, through the Cultural Space – Áshram Pashupati presents the third conference of a cycle of conferences subordinated to the theme: Ásana practice.
The first conference was called Ásana Practice – Physical, psychological and mental mechanisms, the second, Ásana Practice II – Motricity and ásana, and the third, that will take place on December 6, 2008, Ásana Practice III – The dance and Yôga, the movement in its fluidity.  
The conference, of advanced level, will take place, like the previous ones, in the auditorium of the Palmela Castle, and it will close this cycle of conferences dedicated to the practice of ásana .  
Event: Conference: The Dance and Yôga.
 Movement in its fluidity.
Speaker: João Camacho, Yôgachárya  
Date: December 6, 2008  
Hours: 15:00 – 17:00  
Place: Auditorium of the Palmela Castle – Praça de Armas, 4704 Palmela  
Contacts: 21 233 21 22  
Language: Portuguese  
Program: Only available in Portuguese.
Category: Events