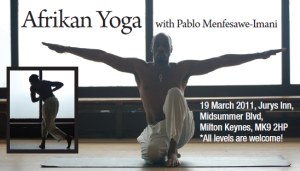 Milton Keynes – Buckinghamshire, England | 19 March, 2011
Pablo Menfesawe-Imani will be guiding a workshop on "Afrikan Yoga" in Milton Keynes, England on 19 March that is being offered at a discount to £50 per person. Additionally, anyone attending will receive a 20% discount for Higher Holistics Milton Keynes.
Classes in London & Manchester: Pablo will also be teaching classes in London, 27 March (The Alchemy Centre, Camden) (Special Yoga Centre, Kensal Rise -still in planning) and Manchester, a smaller workshop (12 people) in Bury Studio, Cheshire.
Marsa Alam, Egypt: In November 2011, Pablo will participate together with Duncan Wong, in a combination Scuba/Yoga, on a retreat in Marsa Alam, Egypt. The event will be between 7th and 21 November. More information will be vaialble in the near future.




Afrikan Yoga at Milton Keynes
Afrikan Yoga is a system of healing and self development with Ancient Egyptian (Kemetic) origins. Pablo Imani offers you an opportunity to remember, reconnect, and unite yourself into a beauty filled whole through the timeless teachings of Smai Taui Afrikan Yoga. Watch Pablo demonstrate Water Nile Yoga on YouTube. com or view his other videos including those featuring HUDU Afrikan Tai Chi. Join Pablo on Facebook, Myspace and read about his work in Ghana and Uganda at www.afrikanyoga.com.


"I am absolutely fascinated."
"This is real Kundaliní!"
"This really does awaken the spine while it takes your mind to higher places."


Schedule for the day:
10h00 – 11h00 Warm up with HUDU Afrikan Tai Chi Fludity and movement
11h00 – 11h30 Hudu Strength and movement
11h30 – 13h Raise Sekhem/Kundaliní (dormant energy) with Smai breath control & Afrikan Yoga
13h00 – 14h30 Lunch Let's explore MKHub restaurants!
20 min talk with Pablo Imani
15h00 – 16h30 Afrikan Yoga Egyptian (Kemetic) Style
16h30 – 17h00 Cool down
17h00 – 17h30 Meditation
17h30 –  18h00 Q/A with Pablo




Date: 19 March, 2011
Hours: 10h – 18h
Location: Jurys Inn, Midsummer Blvd, MK9 2HP – Milton Keynes – Buckinghamshire, UK
Value: £50 with an added bonus of 20% discount from Higher Holistic Milton Keynes


More information:
Email: mariabookerltd@hotmail.co.uk – T: +44 01908 843700 –  7908 405496 (Maria Booker) – Web: www.afrikanyoga.com


See also other events by: Afrikan Yoga


[HTML1]


Category: Events