In this meeting, which will take place on November 16, 2008 in Centro de Yoga Sivananda Vedanta of Lisbon, the concepts of the modern diseases will be approached, as well as the observation of how the body, breathing, heart and mind relate and influence themselves in order to improve the circulation of the vital energy through the physical and subtle bodies, and the mind. 
Nishala Devi shares her experience of years, working with the benefits of Yoga for health, teaching visualization, breathing and meditation, as well as the āsanas (Yoga postures). "The Cure Through Yoga" intends to teach the immemorial techniques of Yoga and philosophy, together with a  a program for lifestyle modification, establishing a complete program for promoting rejuvenation and health.
The workshop will approach:    
Prevention of disease and stress in healthy people

Help in the recovering from heart diseases, cancer and other diseases

Physical conditioning and weight loss

Deep relaxation technique for cure purposes

Reaching physical, mental and spiritual health
Event: Lisbon – Nischala Joy Devi presents the workshop "The Cure Trough Yoga" in Centro de Yoga Sivananda Vedanta    
Date: November 16, 2008    
Hours: 14:00    
Language: English    
Contacts: 21 797 14 31 – 96 183 90 90    
Donation: 15 €    
Organization: Centro de Yoga Sivananda Vedanta de Lisboa  
Further information: http://www.sivananda.pt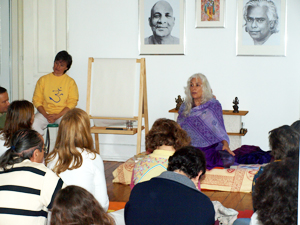 Program:    
14:00 The Yoga healing path  
15:30 Tea Break    
18:00 Vegetarian meal  
19:00 Satsang (meditation and lecture)
About Nischala Joy Devi
Nischala Joy Devi is a master teacher and healer. She has been recognized internationally, for more than 30 years, for her innovative approach to Yoga in the promotion of spiritual growth and health. She studied with Yoga masters in US, India and worldwide. She was disciple of the renowned Yogiraj Sri Swami Satchidananda, from whom she received direct guidance and teachings for over 25 years. During that time she began to blend western medicine and Yoga and then participated in developing the yoga part of "The Dean Ornish Program for Reversing Heart Disease" where she subsequently served for seven years as Director of Stress Management. She also co-founded the award-winning Commonweal Cancer Help Program. She is author of books and CD's.
Category: Events